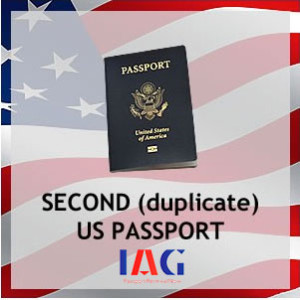 IAG is a private company that is officially authorized by the US Department of State to process expedited passports. We are not affiliated with the US government.
You should apply for a Second passport if:
You have a valid US Passport in your possession, and you were 16 years or older when passport was issued
You can show proof of need of second passport
¿ How to Obtain your Second Passport ?
Step 1. → Click Here to place your passport order.
Once you have placed your order, you will immediately receive a call from one of our passport specialists, who will personally walk you through the application process and send you our step-by-step information package via email.
* Note: If you place your order outside of our business hours you will receive a call the following business day at 8:00 am.
Step 2. → Gather all the required documents.
In order to obtain a Second Passport, you must fill out and submit the following documents:
Passport Application Form
Proof of Identity
Two Passport Photos
Travel Itinerary
Step 3. → Once you have completed all of the steps outlined in your Second Passport
Application form, you need to submit the required personal documents to:
Inter-American Group, Inc
1620 I Street, N.W. Suite 701
Washington, DC 20006
Click here to place your passport Order
Call Us 1-866-727-7362